All our seedboxes come pre-configured with rTorrent + ruTorrent and are ready for use. However, if you want you can install rTorrent/ruTorrent via SSH.
General Tab
Files Tab
Trackers Tab
Peers Tab
Speed Tab
Plugins Tab
File Manager Tab
Chunks Tab
Traffic Tab
History Tab
Autodl-irssi Tab
Log Tab
In this tab we can find detailed information about any selected torrent.

For the selected torrent -
Time elapsed is showing how much time is elapsed since starting
Downloaded is showing how much data has already been downloaded
Download Speed is showing the real-time download speed
Uploaded is showing how much data has already been uploaded
Seeds is showing how many seeders are connected currently
Peers is showing how many peers are connected
Tracker is showing info regarding the tracker URL and it's status
Save As is showing the download path of your torrent data
Free Disk Space shows the remaining free space on your seedbox's hard drive
Created On shows the torrent creation datetime
This tab shows all files or parts for the current selected torrent and download status of each. You can use this tab to set per-file download priority. You can also download files via HTTP(s) just by double-clicking on a file if you have the data plugin installed.

This tab will show information regarding currently loaded tracker(s) of a selected torrent, their name, protocol they use, status, group, how many seeds/peers those tracker(s) are using, download status, when is the time of the last update, the interval and whether the tracker(s) are private or not.

This tab will list real-time information about all the connected peers, their country, speed, and much more for a selected torrent. This feature requires a plugin called show_peers_like_wtorrent. To display the country flag for each peer GeoIP plugin needs to installed and enabled.

This tab shows a real-time graph of upload and download speed over the last few minutes.

This tab lists currently loaded plugins for ruTorrent. To disable/enable a particular plugin, just right click on the plugin name and select Launch > Disable or Enable.

The file manager plugin for ruTorrent provides all basic file management features.

Features:
Support for file operations: copy/move/delete/rename
Hotkeys for copy/move actions (ctrl/cmd-c/x/v)
Integrated operations in torrent Files tab
Using twigjs for views
Sfv checksum functionality
Text/nfo viewer
File archive support for extract/create operations
Video screenshots functionality (Requires screenshots plugin)
You can create file download links, password protected with an expire timer and share them (Requires fileshare plugin)
This tab shows which pieces of a torrent have been downloaded (requires chunks plugin).

This tab shows per tracker, and overal traffic statistics in a variety of time intervals (requires traffic plugin).

This tab keeps track of all torrents downloaded/uploaded for our session. This feature is provided by a plugin named history.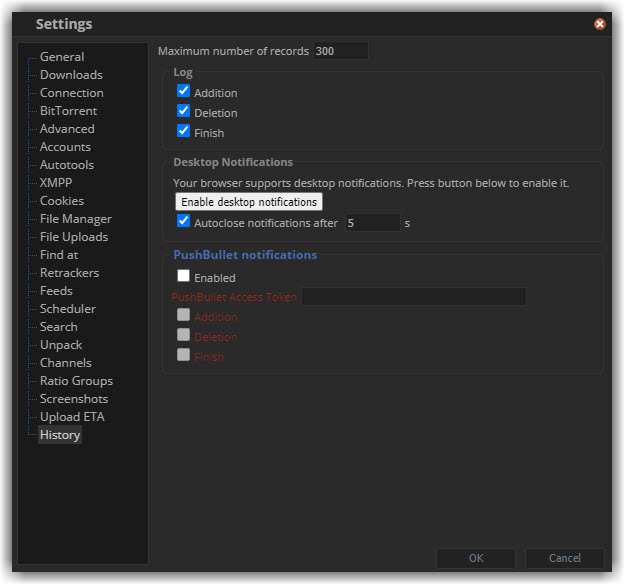 This tab will only be shown if the autodl-irssi plugin for ruTorrent is installed and configured. This tab is showing log information about autodl-irssi and provides basic operations for this plugin.

This tab shows error messages, and other system events.

Torrents can be added to rTorrent either by using a magnet link or by uploading a .torrent file.