HandBrake is a free and open-source transcoder for digital video files. It was originally developed in 2003 by Eric Petit to make ripping DVDs to a data storage device easier. HandBrake's backend contains comparatively little original code; the program is an integration of many third-party audio and video libraries, both codecs (such as FFmpeg, x264, and x265) and other components such as video deinterlacers (referred to as "filters"). These are collected in such a manner to make their use more effective and accessible (e.g., so that a user does not have to transcode a video's audio and visual components in separate steps, or with inaccessible command-line utilities).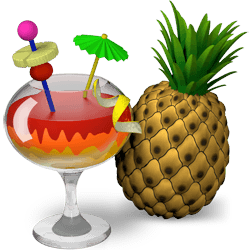 Please check our application chart to see which GigaDrive Plans are eligible to install this application.
Built-in Device Presets: Get started with HandBrake in seconds by choosing a profile optimised for your device, or choose a universal profile for standard or high quality conversions. Simple, easy, fast. For those that want more choice, tweak many basic and advanced options to improve your encodes.
Supported Input Sources: Handbrake can process most common multimedia files and any DVD or BluRay sources that do not contain any kind of copy protection.
Outputs:

File Containers: .MP4(.M4V), .MKV and WebM
Video Encoders: H.264 and H.265 (Including hardware acceleration support), MPEG-4 and MPEG-2, VP8, VP9 and Theora
Audio Encoders: AAC / HE-AAC, MP3, FLAC, AC3, E-AC3, Opus and Vorbis
Audio Pass-thru: AC-3, E-AC3, FLAC, DTS, DTS-HD, TrueHD, AAC, MP3 and MP2 tracks

Title / chapter and range selection
Batch Scan and Queueing of encodes
Chapter Markers
Subtitles (VobSub, Closed Captions CEA-608, SSA, SRT)
Constant Quality or Average Bitrate Video Encoding
Support for VFR and CFR
Video Filters: Deinterlacing, Decomb, Denoise, Detelecine, Deblock, Grayscale, Colourspace, Cropping and scaling
Live Static and Video Preview
¶ Installing Handbrake
Navigate to the Application Manager page and search for handbrake.
Click

icon to open the installation window and tap Install to start the installation process.
Once the installation is complete, click

icon to open the Access Info page. Then click Go To Application to access handbrake.