Mozilla Firefox , or simply Firefox, is a free and open-source web browser developed by the Mozilla Foundation and its subsidiary, the Mozilla Corporation. Firefox uses the Gecko rendering engine to display web pages, which implements current and anticipated web standards. In 2017, Firefox began incorporating new technology under the code name Quantum to promote parallelism and a more intuitive user interface. Firefox is available for Windows 7 and later versions, macOS, and Linux.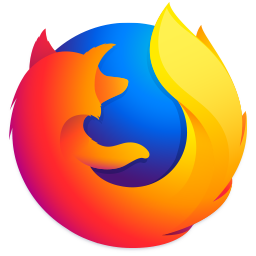 Please check our application chart to see which GigaDrive Plans are eligible to install this application.
Tabbed browsing: Firefox supports tabbed browsing, which allows users to open several pages in one window. This feature was carried over from the Mozilla Application Suite, which in turn had borrowed the feature from the popular MultiZilla extension for Mozilla.
Pop-up blocking: Firefox also includes integrated customizable pop-up blocking. Firefox was given this feature early in beta development, and it was a major comparative selling point of the browser until Internet Explorer gained the capability in the Windows XP SP2 release of August 25, 2004. Firefox's pop-up blocking can be turned off entirely to allow pop-ups from all sites.
Private browsing: Private browsing was introduced in Firefox 3.5, which released on June 30, 2009. This feature lets users browse the Internet without leaving any traces in the browsing history.
Download manager: An integrated customizable download manager is also included. Downloads can be opened automatically depending on the file type, or saved directly to a disk. By default, Firefox downloads all files to a user's desktop on Mac and Windows or to the user's home directory on Linux, but it can be configured to prompt for a specific download location.
Live Bookmarks: From 2004, live bookmarks allowed users to dynamically monitor changes to their favorite news sources, using RSS or Atom feeds. Instead of treating RSS-feeds as HTML pages as most news aggregators do, Firefox treated them as bookmarks and automatically updated them in real-time with a link to the appropriate source.
Smart Bookmarks: Smart Bookmarks (aka Smart keywords) can be used to quickly search for information on specific Web sites. A smart keyword is defined by the user and can be associated with any bookmark, and can then be used in the address bar as a shortcut to quickly get to the site or, if the smart keyword is linked to a searchbox, to search the site. For example, "imdb" is a pre-defined smart keyword; to search for information about the movie 'Firefox' on IMDb, jump to the location bar with the Ctrl+L shortcut, type "imdb Firefox" and press the Enter key or just simply type in "imdb" if one wants to get to the frontpage instead.
Password manager: Firefox Lockwise lets you access all the passwords you've saved in Firefox — and it's free.
Sync between devices: Make sure all your important stuff — internet searches, passwords, open tabs — appears where you need it on every device.
Better bookmarks: Use the bookmark star icon to stay organized and add custom names and folders quickly.
Fingerprinter Blocking: Fingerprinting is a type of online tracking that's more invasive than ordinary cookie-based tracking — that's why Firefox Browser blocks it.
Translate the web: Translate from more than 100 languages to your language directly in your Firefox Browser - easier than ever.
Picture-in-Picture: Got things to do and things to watch? Do both using Picture-in-Picture in Firefox.
Navigate to the Application Manager page and search for firefox.
Click

icon to open the installation window and tap Install to start the installation process.
Once the installation is complete, click

icon to open the Access Info page. Then click Go To Application to access firefox.