Avidemux is a free video editor designed for simple cutting, filtering and encoding tasks. It supports many file types, including AVI, DVD compatible MPEG files, MP4 and ASF, using a variety of codecs. Tasks can be automated using projects, job queue and powerful scripting capabilities.
Avidemux is available for Linux, BSD, Mac OS X and Microsoft Windows under the GNU GPL license. The program was written from scratch by Mean, but code from other people and projects has been used as well. Patches, translations and even bug reports are always welcome.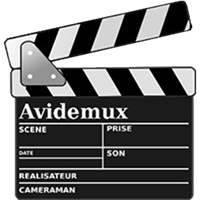 Avidemux is available as an one-click installable app on all of our Gigabox Plans starting from Gigabox Basic series.
support for non-linear video editing, visual effects, and transcoding
support for muxing (multiplexing) and demuxing
support for popular subtitle formats: SUB, SSA, ASS, SRT
has powerful scripting capabilities (tutorial available here)
multiple filtering options: auto-resize, gauss smoothing, deinterlacing, chroma shifts, add black borders, etc.
comes with a GUI (graphical user interface) and command line interface
various output formats supported: MKV, Flash, AVI, MPEG-1/2, OGM, MP4, etc.
built-in video encoders for: MPEG-1, MPEG-2, FFHuffYUV, FFV1, H.263, H.263+, HuffYUV, MJPEG, MPEG-4, Snow, x264, x264, Xvid, Y800
built-in audio encoders for MPEG-1 Layer 3 (MP3), Vorbis, AAC, MPEG-1 layer 2 (MP2), AC-3, MPEG-1 layer 2 (MP2), Microsoft RIFF WAV PCM, LPCM
Navigate to the Application Manager page and search for avidemux.
Click

icon to open the installation window and tap Install to start the installation process.
Once the installation is complete, click

icon to open the Access Info page. Then click Go To Application to access avidemux.